How to Buy a Tradeline to Improve Your Credit Score
A tradeline is an account listed on a credit report. Each separate account is a different trade line. tradeline information is provided by a lender or financial institution to credit-reporting bureaus, such as TransUnion. Trade lines are used to determine consumers' credit scores.
The owners of boostlines have excellent credit, and when you become an AU on their account, some of their positive credit data passes over to you, leading to an increase in your own credit score. Your status as an authorized user doesn't give you any access to the credit card associated with the account.
How Does A Boostline Improve Your Credit Score?
Boostlines enable you to increase your credit score by a few points or a drastic increase depending on the boostline value itself. CreditBull.com adds lines of credit to your reporting bureaus with very or no used credit. For example, to increase your scores CreditBull may add a line of credit to your name without a credit inquiry, of $10,000 dollars. This amount of unused credit will increase your credit score. You will not have access to this money, but it will show as you do. The debt to available credit is what impacts your score. We will always keep this debt utilization under 15% during the 1-4 month window of use depending on credit analysis by our team.
How Can I Buy A Boostline?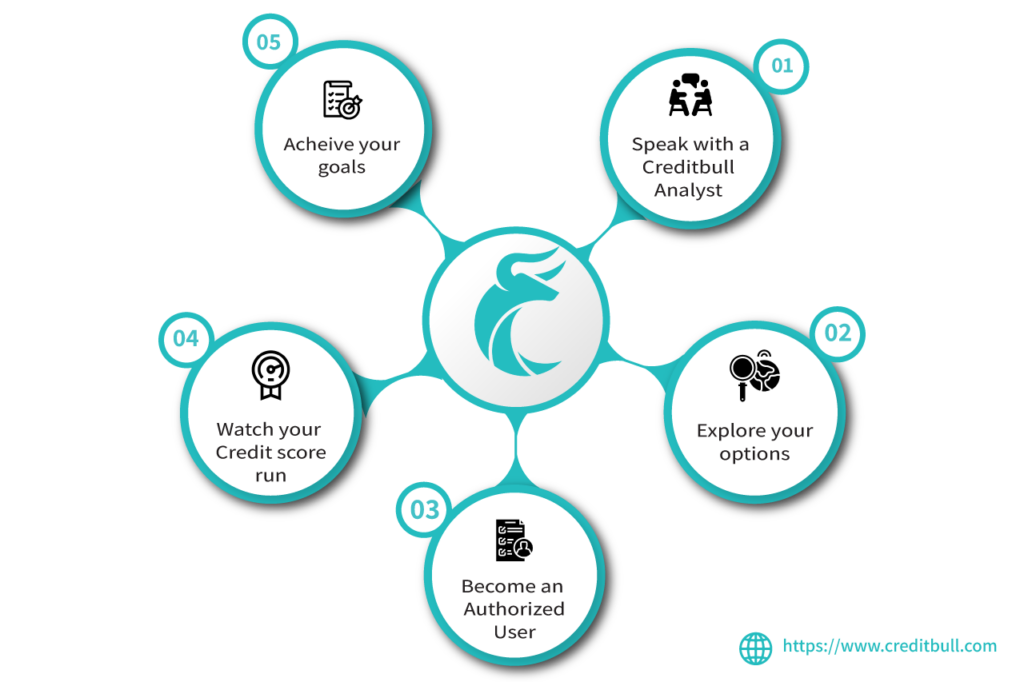 Step 1: Speak with a CreditBull analyst.
Before purchasing a credit boostline, speak with one of our financial analysts to discuss your credit situation and goals. Buying a boostline isn't something you should rush into. It's important to know exactly what you want to accomplish in doing so before you move forward. 
An experienced analyst will help you understand what options are available in terms of boostlines and guide you toward making strategic decisions that will further your overall goals.
Step 2: Explore your options with CreditBull
Not all boostlines were created equal, and it's essential to speak with a CreditBull analyst before you purchase a boostline package on our site. Depending on your financial situation, certain boostlines will offer a more significant impact than others. There is no guarantee that a boostline will improve your score, but if you choose strategically you'll have a very good chance of seeing an increase.
For instance, if you have a limited credit history, the best way to boost your credit score would be to purchase our CreditBull age focused boostline package. This will help to average out your credit history age, and potentially boost your score.
On the other hand, if your payment history has negative marks, your focus should be on purchasing a boostline package with an impeccable payment history so you can capitalize on that positive data. 
As you browse our packages available on our marketplace, think critically about which of them will best further your financial goals. CreditBull offers several tiers of boostlines to choose from based on your needs, and you should call us if you are unsure on what package to purchase. We are here to help you meet your goals.
Step 3: Become an authorized user
Once you select the ideal boostline package, it's time to become an authorized user. Part of completing the transaction through Creditbull involves submitting paperwork and personal information. Creditbull will use this information to add you to the account as an authorized user.
Step 4: Watch your credit score increase.
You should see a new tradeline on your credit report by the end of the reporting period following your boostline purchase. Credit reports are usually updated every 30 to 45 days, but it may take up to 90 days before the boostline will appear on your report.
Your credit score should increase as soon as the new account information posts to your report.
Step 5: Achieve your financial goals.
As your credit score increases, you'll begin to have more financial options available to you. A higher score will make it easier to be approved for loans and score your more favorable interest rates with both new and existing lenders.
To meet your long-term goals, begin leveraging your newly improved score strategically. Depending on your situation, it may make sense to contact your existing lenders and request reductions in interest rates. That way, you can save money on any debt you already carry.
If you don't have any existing debt, use your boosted credit score to open new credit accounts strategically. For instance, you may want to improve your credit mix (which accounts for 10% of your score) by taking on a different type of loan. Alternatively, you might wish to improve your credit utilization ratio (which makes up 30% of your credit score) by opening a new credit card account. This will increase your credit score even further, helping you progress toward your goals.
As you can see, increasing your credit score with a boostline can make a quick and meaningful impact on your overall creditworthiness and put you on the path to achieving your financial goals.
You could even begin monetizing your good credit by selling tradelines of your own!
How Much do Boostlines Cost?
Boostlines vary in price depending on factors such as the age of the account in question and the credit limit on the account. A boostline package through CreditBull varies depending on what package fits your needs best. 
The price of the packages are affected by the amount of boostlines in the package, average age, and credit limit. 
CreditBull offers boostlines at several different price points, so you're sure to find one that will work with your budget.
How Many Tradelines Can You Buy?
There is no limit to how many tradelines you can buy, but they may begin to have diminishing returns at a certain point. If your credit score is very low, purchasing a boostline or two will likely offer you a quick boost, but boostlines may not be the most effective way to continue raising it once your score begins to go up.
Boostlines are an excellent way to get a head start on building your credit score, but eventually, you'll want to branch out and employ other tactics to continue increasing your score over time. Maintaining credit accounts that have been open for long periods of time, diversifying your credit mix, and keeping a perfect payment record are all very powerful ways to continue improving your score.
Of course, you can always circle back and purchase an additional boostline down the road if you find yourself in need of a quick score increase again in the future.
Wondering if a boostline is right for you? Contact one of our experienced credit analysts to discuss your financial goals and determine the best option for improving your score.
Where can you purchase boostlines?
CreditBull.com is the best place to purchase a boostline safely online. You can fill out our very short form for one of our experts to reach you at a desired time. Our goal is to help our clients achieve financial freedom by helping them maximize their credit.
We offer several tiers of boostlines at different price points that you can choose from based on your needs. We are proud to help you work towards improving your credit and achieving your financial goals.